Keiji

Onihira
Box with design in raised makie. "Aurora running in the sky"
Lacquerware
Presented in 2020
H

21.7

x W

26.4

x D

14.5

cm
Contact for Price
"Ama kakeru" means flying up and around high in the sky. In the old times, it also meant god and human spirits flying around in the sky. There is a similar saying among the native Americans that when you see an aurora, you can speak to the dead. I also have a longing for such mysterious light of the aurora, and try to express the light in my work using lacquerware techniques.

On the top of the lid, is the beginning of the aurora spreading radially to the sides of the lid and going downward. I tried to express the light like sunlight shining through a lattice door where the way the light shines changes depending on the angle. I used the embossed gilt lacquer technique on the side of the box to emboss the stripe patterns and express the mysterious aurora as if it were a curtain of light swaying in the sky.

Inside the lid, I made a moon with raden and finished it by shading it off with gold dust. Inside the box, I designed the moonlight shining on the surface of water, the forest lit by the light of the aurora and the aurora reflecting on the surface of the lake. I realized the delight of designing once again by working on this piece.

Exhibited at The 67th Japan Traditional Kogei Exhibition in 2020
| | |
| --- | --- |
| Category | Lacquerware |
| Year Presented | 2020 |
| Dimensions | H 21.7 x W 26.4 x D 14.5 cm |
| Materials | gold-silver alloy, gold, abalone shells, south sea abalone shells (known as tamamushi (jewel beetle) shells), pigments |
| Exhibition | The 67th Japan Traditional Kōgei Exhibition |
| Artist Signature | Signature on box and piece |
| Notes | Comes with box |
Dry lacquer

For works of dry lacquer (kanshitsu), first a clay form is created and plaster is used to take a mold of the form. Next, repeated layers of hemp cloth and lacquer are applied to the mold until they are built up to the desired thickness. Finally, the mold is removed and additional coats of lacquer are applied to finish the piece. The hemp fibers are strengthened when the lacquer bonds with them, making dry lacquer an excellent technique for creating sturdy forms with a significant degree of freedom.

Urushi-e

Urushi-e ("lacquer pictures") is a decorative technique that consists of motifs painted in colored lacquer. Urushi-e is the oldest and most fundamental decorative lacquer technique.

Maki-e

Maki-e (literally "sprinkled pictures") is a representative lacquerware technique that originated in Japan around 1,200 years ago. Maki-e is done by painting lacquer motifs on the surface of a piece using a fine brush and then sprinkling gold powder onto the lacquer before it hardens, producing luxurious decorations.

Metal sheet inlay

Metal sheet inlay (hyōmon) is a technique that involves cutting shapes out of thin sheets of gold, silver, or other metals to create an inlay motif.

Mother-of-pearl inlay (Raden)

Mother-of-pearl inlay (Raden) is a decorative technique that uses the iridescent inner layer of abalone shell, turban shell, pearl oyster shell, or other mollusk shells. The technique came to Japan from China 1,300 years ago, and pieces featuring mother-of-pearl inlay are included among the artifacts at the Shōsōin Repository in Nara.
Keiji Onihira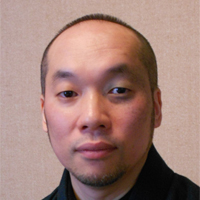 I create my artwork with lacquer, gold, powder, mother-of-pearl, using various makie techniques. Many new types of lacquer and pigments are being developed these days. I try to use these new materials and techniques within the traditional artwork, as I believe this will create a new tradition. With traditional lacquerware at the base, I want to try various motifs and themes to produce artwork that create a special little world or atmosphere.