Masakazu

Ishihara
Box with geometrical design in urushi carving and inlay.
Lacquerware
H

23.0

x W

29.0

x D

14.0

cm

$

14,687

*

according to today's currency rate

*

shipping fees not included
I used the urushi carving and inlay technique that I have been using in my recent artwork and expressed Arabic geometrical patterns in a modern style. Additional to the urushi carving, I used the kinma technique to make the patterns. I sliced the carved urushi lacquered wood, lacquered with layers of white, vermilion and green urushi, into a thickness of 1.5 mm and pasted them together. After applying inlays to the base, I expressed the arabic patterns with black lacquer using the kinma technique. In the middle of the patterns, I inlayed white and black pearl oysters.
With the contrast of urushi carving and black lacquer, I think I was able to create an intricate design. For the three tiered vessels inside the box, I used black lacquer on maple wood and finished it with wiped urushi.
I took part in an event in Abu Dhabi last year and experienced the difference of various cultures. I saw the marble arabesque patterns on the walls, ceilings and floors of the mosques while imagining the culture flowing into Japan through the silk road long ago. I tried to express the image of the arabesque patterns using black urushi, color urushi, thick shells and the wood grain of maple wood.
| | |
| --- | --- |
| Category | Lacquerware |
| Dimensions | H 23.0 x W 29.0 x D 14.0 cm |
| Materials | Kiso cypress, hemp cloth, urushi lacquer, white pearl oysters, black pearl oysters |
| Artist Signature | Signature on |
Masakazu Ishihara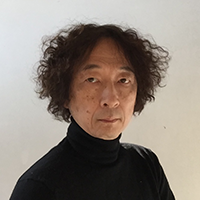 My work is to produce urushi lacquerware, a Japanese traditional craft. From approximately 6,000 years ago, when lacquerware started to be used in daily life, through to the present day, its techniques have been developed into one of the applied fine arts. I am exploring unconventional, new, and innovative lacquerware for the future. While using the most advanced techniques of this traditional craft, I aim to create pieces that beautifully match and can be used in modern life.