Masakazu

Ishihara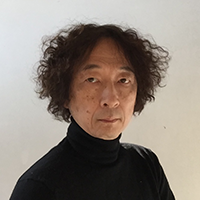 My work is to produce urushi lacquerware, a Japanese traditional craft.
From approximately 6,000 years ago, when lacquerware started to be used in daily life, through to the present day, its techniques have been developed into one of the applied fine arts. I am exploring unconventional, new, and innovative lacquerware for the future.
While using the most advanced techniques of this traditional craft, I aim to create pieces that beautifully match and can be used in modern life.
Membership
Full member, Japan Kogei Association
Designated as Intangible Cultural Property of Kagawa Prefecture for choshitsu
Manager of the Japan Kōgei Association
1960

Born in Takamatsu CIty, Kagawa Prefecture

1979

Completed course at the Kagawa Urushi Lacquerware Institute
Studied under Living National Treasure, OTOMARU Kodo

1982

Selected for the first time at the 29th Japan Traditional Kōgei Exhibition

1992

First solo exhibition at Seibu Department Store, Ikebukuro, Tokyo

1993

Evaluator at the Shikoku Traditional Kōgei Exhibition

1994

Submitted to the "Choshitsu (Carved Lacquer) Today" Exhibition held at the National Museum of Modern Art, Tokyo

1995

Solo exhibition at Seibu Department Store, Ikebukuro, Tokyo
Evaluator at the Shikoku Traditional Kōgei Exhibition

1996

Solo exhibition at Gallery Torin, Takamatsu

2001

OTOMARU Kodo School Exhibition (Nihombashi Mitsukoshi, Takamatsu Mitsukoshi)

2002

Solo exhibition at Gallery Tanaka (Ginza, Tokyo)

2011

Designated as Intagible Cultural Property of Kagawa Prefecture for choshitsu

2017

Evaluator at the 35th Lacquerware Traditional Kōgei Exhibition

2021

Evaluator at the 38th Lacquerware Traditional Kōgei Exhibition
1985

Received the Tokushima Shimbun Award at the Shikoku Traditional Kōgei Exhibition

1987

Received the ISOI Joshin Award at the Shikoku Traditional Kōgei Exhibition

1988

Received the Incentive Award at the Shikoku Traditional Kōgei Exhibition

1990

Received the Japan Kogei Association Award at the Shikoku Traditional Kōgei Exhibition

1991

Received the Takamatsu City Board of Education Award at the Kagawa Prefectural Art Exhibition
Received the ISOI Joshin Award at the Shikoku Traditional Kōgei Exhibition

2003

Received the Japan Kogei Association Award at the 20th Lacquerware Traditional Kōgei Exhibition
Received the Takamatsu City Board of Education Award at the Kagawa Prefectural Art Exhibition

2004

Received the Japan Kogei Association Incentive Award at the 51st Japan Traditional Kōgei Exhibition

2005

Received the Takamatsu City Cultural Encouragement Award

2006

Received the Governor Award at the 71st Kagawa Prefectural Art Exhibition

2007

Received the 50th Anniversary Special Award at the 50th Shikoku Traditional Kōgei Exhibition

2009

Received the Commissioner for Cultural Affairs Award at the 27th Lacquerware Traditional Kōgei Exhibition

2010

Received the 1st Kagawa Prefecture Traditional Crafts Matsudaira Public Interest Association Award

2012

Received the Special Award at the 55th Shikoku Traditional Kōgei Exhibition

2015

Received the Marukame CIty Board of Education Award at the 80th Kagawa Prefectural Art Exhibition
Received the Asahi Shimbun Award at the 33rd Lacquerware Traditional Kōgei Exhibition

2018

Received the Kagawa Governor Award at the 83rd Kagawa Prefectural Art Exhibition
Received the Kagawa Prefecture Cultural Arts Award

2020

Received the MOA Museum of Art Award at the 38th Lacquerware Traditional Kōgei Exhibition