Nobuo

Matsubara
Linen cloth for kimono with design in nagaita-chugata. "Pebble stripe pattern"
Textiles
Created in 2019
Sold Out
A linen cloth for summer kimono with a beautiful contrast of indigo and white. The dots made using a gimlet carved pattern and the wavy stripes composed of various sized hailstone spots create a rhythmic pattern on the translucent linen fabric.
| | |
| --- | --- |
| Category | Textiles |
| Year of Creation | 2019 |
| Materials | Linen |
| Exhibition | The 66th Japan Traditional Kōgei Exhibition |
Nobuo Matsubara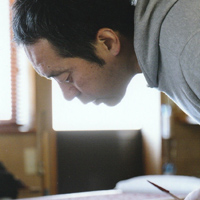 I use the nagaita chugata dyeing method which is a traditional dyeing method for summer kimonos that started in the Edo period, and create textiles that are suitable for our modern life. My grandfather, Sadakichi Matsubara, was a living national treasure, and I learned his techniques from my father. My artwork is mainly exhibited at the Japan Tradional Kogei Exhibition, Textiles Traditional Kogei Exhibition, Exhibition of East Japan Traditional Kogei, and the Chiba Prefecture Art Exhibition, but I also hold a number of solo exhibitions and workshops.