Yasuhiro

Asai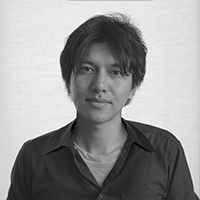 Using mainly togidashi makie* as well as taka makie**, raden (mother-of-pearl work) and other various material and techniques. He follows the traditional techniques of makie, but at the same time tries to add some modernness in the designs to pass down his artwork on to future generations.

*Togidashi makie: applying lacquer on the makie (patterns drawn with lacquer, covered with makie powder, and lacquered again) and polishing the pattern drawn parts after the lacquer is dried.
**Taka makie: raising the patterns to give it a three dimensional look.
| | |
| --- | --- |
| Membership | Full member, Japan Kogei Association |
1983

Born in Tottori Prefecture

2005

Graduated from Takaoka National College, Lacquerware Course
Studied under Kazumi Murose

2015

Nicolai Bergmann x Traditional Kōgei "Dento Kaden" at the Shangri-La Hotel Tokyo
"Urushi no Mirai (The Future of Urushi)" Exhibition at Takahashi Setsuro Art Museum of Azumino

2018

Ambiente 2018 in Germany, Kyoto Zuihodo booth
CRAFT SAKE WEEK "Shukiya"
"Lacquer Art Today 2018" Exhibition at Nihombashi Mitsukoshi Main Store
ART EXPO MALAYSIA 2018 Gallery in Malaysia, Hanakagesho booth
URUSHI Tradition and Innovation

2019

"Our Collections! - Art Collection of Tottori, Up to Now and From Now On-" at Tottori Prefectural Museum
"Bi no Yokan 2019 ― ∞ directions" at Takashimaya
"Development of Modern Crafts 2019" at Kanazawa Yasue Gold Leaf Museum, Ishikawa

2021

Christie's New York "Japanese and Korean Art"
"Shikkai ― Successors in the Air Era" at Takashimaya
2002

Received the "Lacquering Incentive Award" from the Japan Urushi Association

2004

Received the "Yokoyama Award" at Takaoka National College

2005

Received the Incentive Award at the Tottori Prefectural Art Exhibition

2007

Received the Incentive Award at the Tottori Prefectural Art Exhibition

2008

Received the Incentive Award at the Tottori Prefectural Art Exhibition
Received the Prefecture Governor Award at the 51st Chūgoku Traditional Kōgei Exhibition

2012

Received the Incentive Award at the 55th Chūgoku Traditional Kōgei Exhibition
Received the New Artist Award at the 59th Japan Traditional Kōgei Exhibition

2015

Received the Commissioner for Cultural Affairs Award at the 32nd Lacquerware Traditional Kōgei Exhibition

2017

Received the Incentive Award at the 57th East Japan Traditional Kōgei Exhibition

2018

Received the Energia Art Award from the Energia Culture and Sports Foundation

2021

Received the Kyoto Shimbun Award at the 50th Kinki Traditional Kōgei Exhibition