Satoshi

Ishida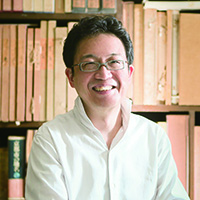 With an awareness of the aesthetic essence of Japanese tradition such as Japanese style and grace, I have sought to capture the beauty of objects that have serenity and have kept on creating my works.
I shall be happy if you could feel in my pieces, a lingering moment of beauty and tranquility.
In my production I am aware of the modern age, and aim at creating works that allow the viewer to feel new winds and changing trends.
| | |
| --- | --- |
| Membership | Full member, Japan Kogei Association |
1972

Born in Kyoto as first son of Wataru and Seki Ishida

1994

Graduated from Tokyo Glass Art Institute

1995

Traveled through Asia, the Middle-East, South / Central America and to New York to study art (until '96)

1998

"Wataru, Seki and Satoshi Ishida Pâte de Verre Exhibition" ('02, '04, '07 in Kyoto, '03 in Kobe and '08 and '11 in Nagoya)

2003

Cooperated in the restoration of the National Treasure in Kasugataisha Shrine, Kenukigata Tachi (sword)

2006

"Wataru, Seki and Satoshi Ishida Pâte de Verre Works Exhibition –Seeking Objects of Serenity- "(Jojakko-ji Temple, Kyoto)
"Wataru, Seki and Satoshi Ishida Pâte de Verre Works Exhibition" (Ginza WAKO Hall) (also held in '09, '12, '15 and '18)

2008

"Wataru, Seki and Satoshi Ishida Pâte de Verre Works Exhibition –The Quiet Sparkles- "(Autumn Special Exhibition, Osaka Museum of Yayoi Culture)
Submitted to "Mitsuo Masuda and 24 Artists Exhibition" (Nihombashi Mitsukoshi, Tokyo)

2009

Judge and Evaluator at the Other Crafts Traditional Kōgei Exhibition

2010

"Wataru, Seki and Satoshi Ishida Pâte de Verre Works Exhibition" (Kyoto Takashimaya, also in '13, '16 and '19)

2011

Evaluator at the Japan Traditional Kōgei Exhibition

2012

Evaluator at the Kinki Traditional Kōgei Exhibition (also in '08, '09 and '10)
Invited to submit to the "Selected Artists in Kyoto Exhibition" (The Museum of Kyoto)

2013

Submitted to "From Crafts to Kogei - In Commemoration of the 60th Japan Traditional Art Crafts Exhibition" (National Museum of Modern Art, Tokyo)

2014

Submitted to the "Quiet - In Line with the Theme of Utakai Hajime" Exhibition (Shikinen Sengu Memorial Museum, Ise Jingu)
"Wataru, Seki and Satoshi Ishida Pâte de Verre Works Exhibition" (Yokohama Takashimaya, also in '17 and '20)

2015

Selected to submit to "Contemporary Japanese Crafts – The Kikuchi Kanjitsu Prize" (Musee Tomo)

2017

Cooperated in the restoration of the National Treasure in Kasugataisha Shrine, Kinji Raden Kenukigata Tachi (sword) and HIrayanagui (quiver)
Submitted to the "Traditional Kōgei in Everyday Life" Exhibition (MOA Museum of Art, Atami)
"Wataru, Seki and Satoshi Ishida Pâte de Verre Works Exhibition" (Osaka Takashimaya, also in '20)
"Succeeding Ancient Techniques – Glass and Kirikane – Satoshi Ishida, Tomoko Eri Exhibition" (Nihombashi Mitsukoshi, Tokyo, also in '20)

2019

"Wataru, Seki and Satoshi Ishida Pâte de Verre Works Exhibition" (Nihombashi Takashimaya)

2020

Selected to submit to the Fujingaho 115th Anniversary Special Exhibition "Fujingaho and Kyoto – People and Families to be Passed On" (Museum "EKi" Kyoto)

2021

Submitted to "Modern Crafts and Tea Utensils: Furnishings in Each Season" (National Crafts Museum)
"Wataru, Seki and Satoshi Ishida Pâte de Verre Works Exhibition" (Nagoya Takashimaya)
"Wataru, Seki and Satoshi Ishida Pâte de Verre Works Exhibition – Sparkles from Kyoto –" (Fukuya Hacchobori Main Store, Hiroshima)
"'Works of Wataru Ishida' Publication Anniversary – Japanese Pâte de Verre Works of the Ishida Family" (Wako Hall, Ginza)
2001

Received the Asahi Shimbun Award at the Traditional Kōgei 7th Division Exhibition

2003

Received the New Artist Incentive Award at the Kinki Traditional Kōgei Exhibition
Received the Asahi Shimbun Award at the Japan Traditional Kōgei Exhibition

2005

Received the Kyoto Prefectural Board of Education Manager Award at the Kinki Traditional Kōgei Exhibition

2006

Received the 24th Kyoto Cultural Award Incentive Award
Received the Japan Kōgei Association President Award at the Japan Traditional Kōgei Exhibition

2007

Received the Grand Award in the craft category at the "Kyoto Art for Tomorrow" Exhibition (The Museum of Kyoto)

2013

Received the Incentive Award at the 33rd POLA Traditional Culture Award (POLA Foundation of Japanese Culture)