Tomoyuki

Hoshino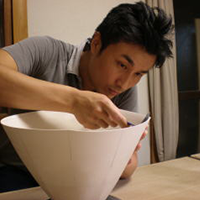 "In my everyday work I really get into the feel of the clay and am very much aware of the history and tradition of ceramics.

When I work on the wheel I find myself harmonizing with the clay, and it's then I can feel a sense as if my own genes somehow become synchronized with the clay drawing itself out in spirals; I find it fascinating process.
I use porcelain clay as the main material, and freely combine a variety of techniques, such as neritsugi, a combination of the traditional techniques of neriage and dotsugi,* or using a pale blue glaze with red decoration, which is a combination of the blue of seihakuji (blue-white porcelain) and the red of Shinsha glaze. I also use a Japanese-style plane to create edges, which are only found in ceramics scraped with this tool.



 I aim at creating ceramics that leave a deep impression on the viewer's mind.

*Neriage: Layering or blending of clay of different colors to create a striped or marbleized effect Dotsugi: Body joining"
| | |
| --- | --- |
| Membership | Full member, Japan Kogei Association |
1976

Born in Kofu, Yamanashi Prefecture

1999

Graduated from Yokohama City University,
Worked at a recruitment company for 5 years

2005

Completed the molding course at the Kyoto Ceramics Professional School
Studied under Yuichi IKAI

2007

Establishes his own kiln in Kokubunji, Tokyo

2013

Becomes Full Member of the Japan Kogei Association

2014

Solo Exhibition at Nihombashi Mitsukoshi Main Store, Art Square

2015

Solo Exhibition at Kakiden Gallery (Shinjuku)
Group Exhibition, Japan Kogei Association East Japan and Tōkai Selection "The Presentness of Traditional Art Crafts" Exhibition at MOA Museum of Art

2016

Solo Exhibition "Mizen Fine Art" (Paris), Okajima Department Store (Kofu)
Group Exhibtion, "The Future Form" Exhibition by award winners of the Tobiten at Nihombashi Takashimaya
Group Exhibition, "Contemporary Ceramic Art Guide Exhibition" at Ibaraki Ceramic Art Museum

2017

Solo exhibitions at Kakiden Gallery (Shinjuku), Fukuoka Mitsukoshi, LIXIL Gallery (Ginza)
Group Exhibition "Evolution of Porcelain" Exhibition at Ibaraki Ceramic Art Museum

2018

Solo Exhibition at Nihombashi Mitsukoshi Main Store, Art Square
Group Exhibition "Ceramic Art - Techniques and Forms of the New Generation" at Sapporo Art Park

2019

Solo Exhibition at Osaka Takashimaya, Gallery Zuien (Seto)
Group Exhibition "Ceramic Art Exhibition by Four Artists" at Ginza Wako Hall

2020

Solo Exhibition at Kakiden Gallery (Shinjuku), Fukuoka Mitsukoshi

2021

Solo Exhibition at Nihombashi Mitsukoshi Main Store Art Salon
Group Exhibition "Magic of the Tea Bowl" Exhibition at IPPODO Gallery, New York
Kunio Watanabe, Tomoyuki Hoshino Two-person Exhibition "Colors and Coloring" at Shinjuku Takashimaya
2013

Received the Mitsukoshi Isetan Award at the 53rd East Japan Traditional Kōgei Exhibition
Received the Japan Kogei Association Incentive Award at the 60th Japan Traditional Kōgei Exhibition
Received the Incentive Award at the 5th Kikuchi Biennale Exhibition
Received the Special Award and Ibaraki Ceramic Art Museum Award at the 22nd Japan Ceramic Art Exhibition
Received the Excellence Award and Interior Aqua Award at the 1st Tobiten

2017

Received the Special Judges" Award at the 11th International Ceramics Festival Mino (Selected by Sousuke Fujimoto)
Ibaraki Ceramic Art Museum
Ise Foundation
Fuchu City