Iwao

Shinno
Bowl with celadon glaze and raised clay line decoration.
Ceramics
H

11.5

/ ø

52.5

cm
Contact for Price
| | |
| --- | --- |
| Category | Ceramics |
| Dimensions | H 11.5 / ø 52.5 cm |
Iwao Shinno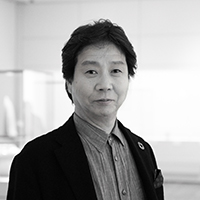 My technique is to turn china clay into slip and brush on many layers to give strong figurative expressions; I have coined the term tsuiji (layered clay) to describe this technique. My major style of work is seiji (celadon), hakuji (white porcelain), and seihakuji (pale blue porcelain) on which line patterns are layered to best show figurative expressions. The lines created by the tsuiji technique flow from the inside to the outside through the rim to connect the inner and outer decoration; in this approach, I am aware of the integration of figurative arts where the tsuiji technique is not confined to simple surface decoration. In my work I aim to express stillness and motion by creating forms and clay lines embodying tension and relaxation, and also capture the play of faint light and shadow on the body. I pursue an overall harmony in my work without losing the dynamic contrast of these two opposing elements.