Kazuo

Nakada
Bowl with flower design in silver and gold under aster glaze on purple ground
Ceramics
Created in 2019
H

14.7

/ ø

46.7

cm
Contact for Price
As dark brown is called purple in the five main colors used in Kutani ware, although this bowl is dark brown, I put "purple ground" in the name of this piece. Over the purple base, I placed silver leaf cut into parts of pansies and geometric shapes. I also added gold and platinum leaf in the background and tried to express the shine of each different color.
By using silver, gold and platinum leaf, I was able to create a piece different from those I made using only silver leaf.

Techniques : Yuri ginsai
SIlver leaf is applied on the base, glazed and baked.
| | |
| --- | --- |
| Category | Ceramics |
| Year of Creation | 2019 |
| Dimensions | H 14.7 / ø 46.7 cm |
| Exhibition | The 66th Japan Traditional Kōgei Exhibition |
Kazuo Nakada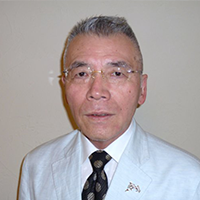 The Yuri Ginsai technique used in my porcelain pieces involves cutting silver leaf into patterns and pasting them on to unglazed porcelain, which is then repeatedly fired before the application of a glaze and a final firing. Viewing the silver-leaf patterns through the overglaze reveals a variety of unique and beautiful colors.