Atsushi

Ogura
Tie-dyed formal kimono "Trace of green shadow"
Textiles
Contact for Price
| | |
| --- | --- |
| Category | Textiles |
| Exhibition | The 65th Japan Traditional Kōgei Exhibition (2018) |
| Awards | MEXT Award |
Atsushi Ogura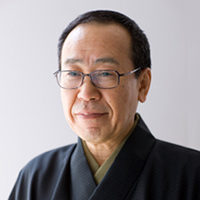 Shibori (tie-dye) is dyeing colors and white separately. The shiborizome technique has been used in Japan for more than one thousand several hundred years. The colored parts make the white stand out brightly, while the white parts make the colors stand out beautifully. The white parts are not simply just non-dyed parts. The colors and the white resonate with each other and with the patterns and become a beautiful piece of art. I use the shiborizome techniques in all of my kimonos.