Yataro

Amemiya
"Shōsō" inkstone.
Inkstone carving
H

5.4

x W

33.0

x D

25.8

cm
Contact for Price
| | |
| --- | --- |
| Category | Inkstone carving |
| Dimensions | H 5.4 x W 33.0 x D 25.8 cm |
Inkstone carving

Inkstones are used in brush calligraphy to grind the ink for writing characters. Inkstones are highly valued writing tools, and the process of ink grinding is regarded as a calming practice preceding calligraphic activities. First, the rough shape of the inkstone is cut out of the base rock. Next, a long-handled chisel is used to cut a flat surface where the ink will be ground and a well where the ink will gather. The final form is coated with a finish of wax or lacquer. Popular varieties of stone include Amehata slate (amehataishi) from Yamanashi prefecture, akamaishi schalstein from Yamaguchi prefecture, and hōmeiseki shale and slate from Aichi prefecture.
Yataro Amemiya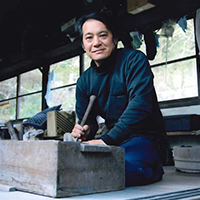 An ink slab is not just an artifact to rub down an ink stick and make some sumi or black ink; it is for calming the mind while making sumi, a place to confront the self. For me the ink slab is "a receptacle of the spirit" and in its functional simplicity I found the possibility of an artistic expression suitable for today's society. I am pursuing the creation of contemporary sculpture in this simple "form or shape" in which natural materials are allowed to express themselves.