Yoshiyasu

Yamamoto
Unglazed High-Fired Jar with Kiln Mutation Effects
Ceramics
H

38.5

x W

38.5

x D

38.5

cm

$

3,738

The prices of the artworks on Gallery Japan are determined by the artists themselves and are published directly on the website.

*

according to today's currency rate

*

shipping fees not included
I made the ridge lines stand out by making the porcelain color a slightly bright blue.
Glossy kiln mutation effects can be seen in the middle.
| | |
| --- | --- |
| Category | Ceramics |
| Dimensions | H 38.5 x W 38.5 x D 38.5 cm |
| Exhibition | The 66th Chūgoku Traditional Kōgei Exhibition |
Yoshiyasu Yamamoto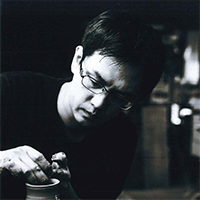 Yakishime Yohen (high-fired kiln mutation) is a technique where the clay base is not glazed and patterns are made by firing inside the kiln. I try to make a new kind of high-fired ceramics thinking what kind of pottery I can make with clay and fire. I want to pursue the strength, mystery, and possiblities of clay.